While gearing up for BlogHer, I realized how much I missed FATshion Fridays. And how much I needed to get back to celebrating fun, frivolous things. So, FATshion is back but this time I'm taking the pressure off with Favorite Things Friday. If I'm having an I Hate Myself Week, I can share what I love right now: books, bloggers, shoes, anything and everything.
One of the most empowering body experiences I've ever had was finding the right bathing suit a few years ago. Up until I discovered that black and red polka-dot creation, I hated the beach and summer. But once I found a suit that fit me, I owned the shit out of it. This year it was time to move on and get another one. Here is me pretending I had to go to the beach. The suit is from Target, $28.
Usually the only REAL color I consistently wear is on my nails. It's the one place I bring it in jewel tones. Maybelline just realeased these and I am smitten. I found them at CVS for $3.99. If you have a club card or whatever the hell, they have a 20% off CVS coupon so you can get them even cheaper.
I met Alissa at BlogHer where she stopped me to take a picture. I was flattered because she looked so amazing. Her blog, Stylish Curves, is a new must-visit favorite. She profiles curvy ladies, picks, trends, and her own outfits. I may or may not steal her banana yellow platforms. I want those bitches so bad. Follow Alissa on Twitter @StylishCurves
Unfortunately my favorite new sparkly hoops proved defective, so I replaced them with these from Lane Bryant. They're $12.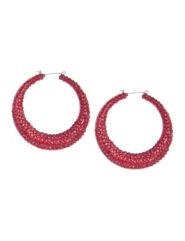 And blog you need to read this week comes from Black Girl in Maine:
Whenever I hear talk of pulling oneself up by the bootstraps a little part of me dies, see the truth is no one pulls themselves up by their own bootstraps. Instead we all stand on someone else's shoulders and that helps us to reach higher. The only reason that I was able to go from being a high school dropout to a college graduate with an advanced degree is the help of others.
Feel free to share what you're digging right now in the comments: reads, things, and everything in between. Enjoy your weekend!