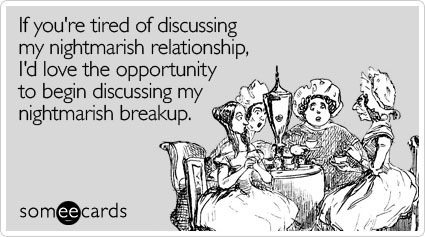 This is the first day of the rest of my life.
And you know what, it sucks. But this isn't going to turn into a place where I cry about it and wring out my panties and cry about it some more. That would be like you were my new roomie and that would be weird. It would also be a huge pile of boring, so what I'm going to do is give you the 9 stages of grief over realizing that your relationship is pretty much donzo.
What?
No, seriously what? We've been together for far too long. Because we're either doing something really right or one of us is hella lazy. So, can you repeat? Oh, I did hear you correctly. Well, in that case, I can't wait to figure this bullshit out. Thanks for making me work and interrupting Real Housewives to ruin my life.
Crying About It
AWESOME! I have Oprah bags under these eyes. Luckily, I don't also have her team of glamazons to fix these things.  Looks like I have to be all poor about it and stop the tears. Which begs the question, how many times can one re-apply mascara in a single day. You would think that I would just give up on looking cute. Or, I could just go blind. Because if I keep this shit up, that's exactly what I'll be. Who wants to gift me a piano for my next career? I will also accept a headless Scotch-taped bird.
Delusions of Grandeur
Yes, finally. I can now go ahead and join the circus as The Greatest Person Ever. Because only the Greatest Person Ever is too much to handle for one person. I need to take this act on the road.
The Mundane Epiphanies 
The elves don't put up the Christmas Tree at the North Pole, so who the frig is going to do it in my house? I am way too short to be handling lights and stands and if it's straight. Not to mention getting the lids to the pots from way up there. I guess I really have to breakdown and get the step stool for toddlers I was avoiding.
This is the Best Time to Develop a Raging Case of Alcoholism and Call it a Good Time
'Nuff Said.
Now There's a Fire Under My Ass
Here's hoping a hunky fireman with a very large hose is on call.
Thanks Don Draper for the Fartfidence
Not that I didn't let it rip before, but thanks for letting me know that I can now count you as an admirer. This gives me a much needed confidence boost for The Greatest Person Ever sideshow.
Kill Me Now I'm Listening to the Beach Boys
And I hate the Beach Boys. When you're mourning the loss of a long relationship, your musical taste tends to go exactly where you hate: surfing safari. I mean, obviously, nothing says breakup like something that makes no sense. You can't jungle and jive on a surfboard. Way to fill us with lies Brian Wilson. Typical.
I Envision a Thin Future
Along with my raging alcoholism, I consulted my own palm and saw two lines that look a lot like a treadmill. Thank you, palms. I'm wondering why I don't see a dollar or even a Diet Coke. I mean then I could do some fierce stamps for scrapbooking where I'm me with a Big Gulp and lots of money and ten years from now be like: whoa, I really let myself go. Thank God it wasn't a cheeseburger.
image via Someecards